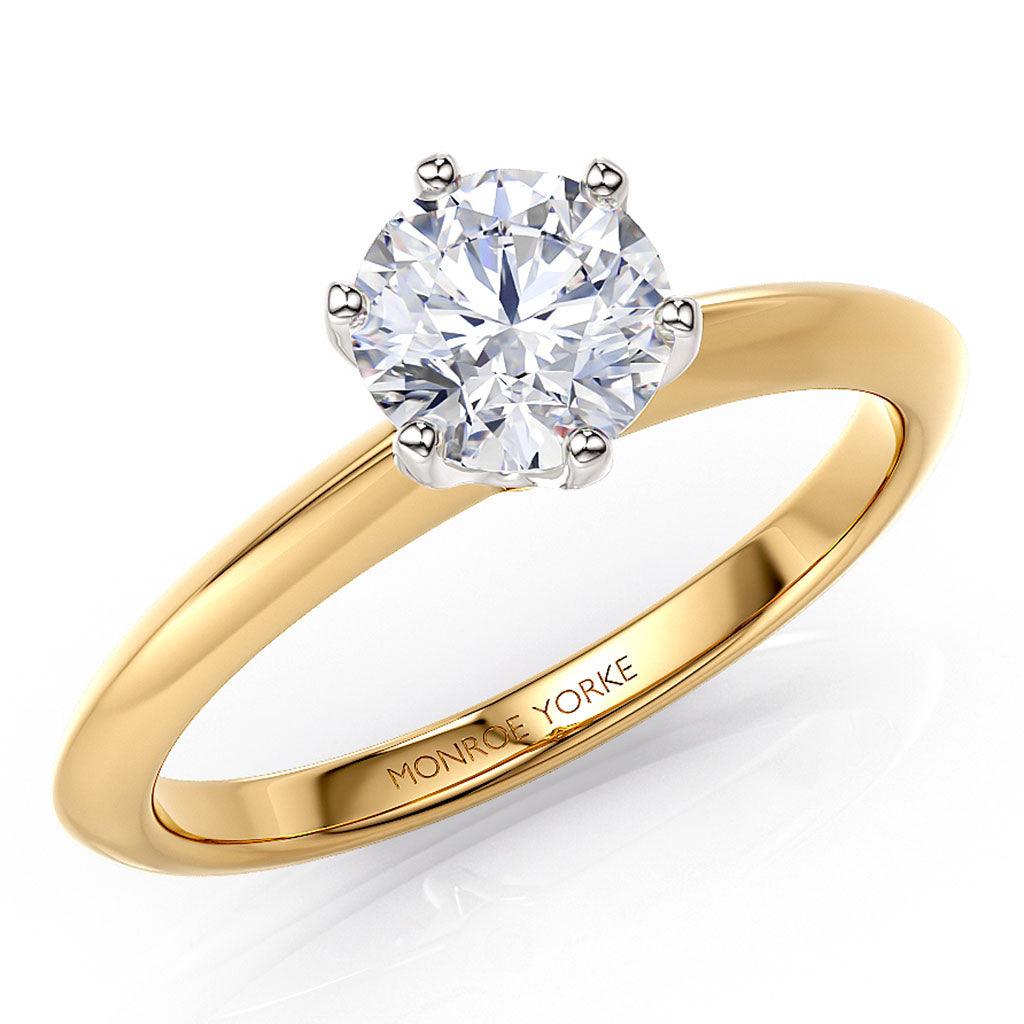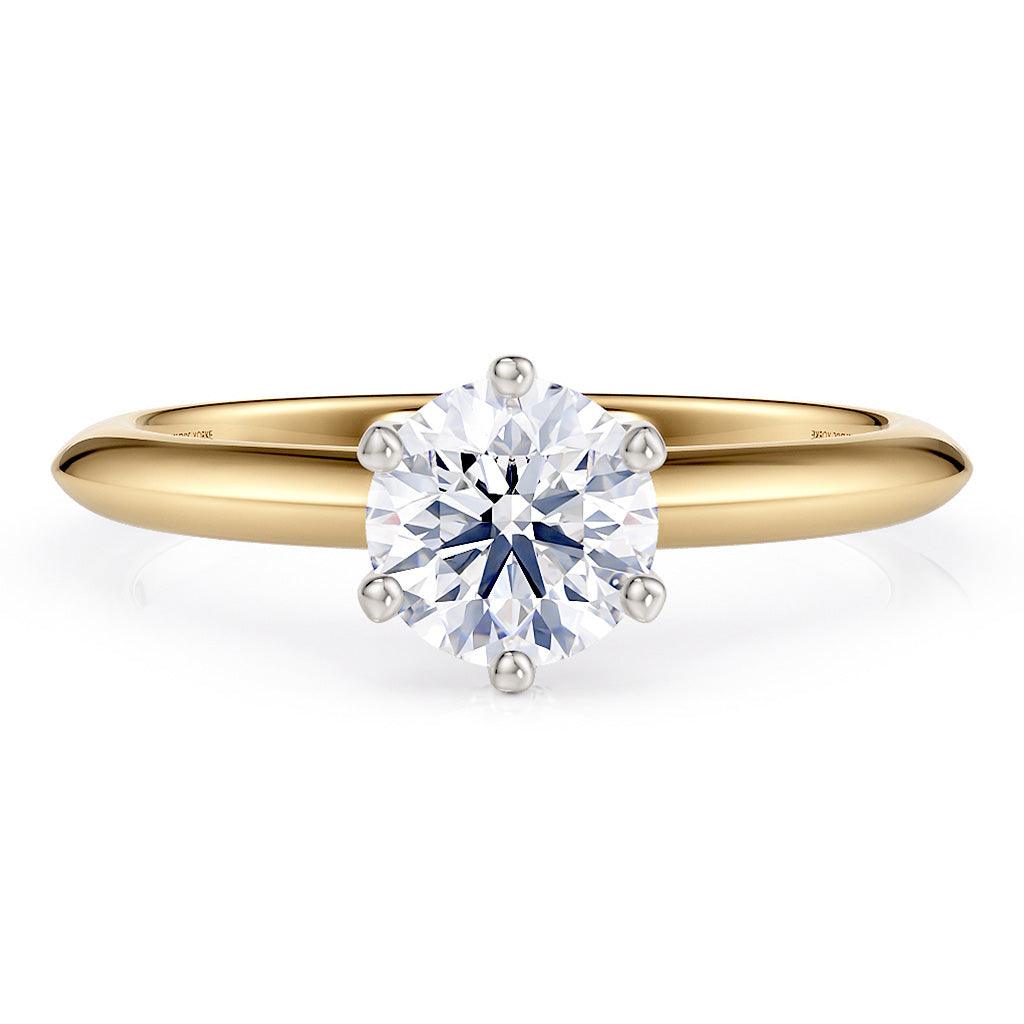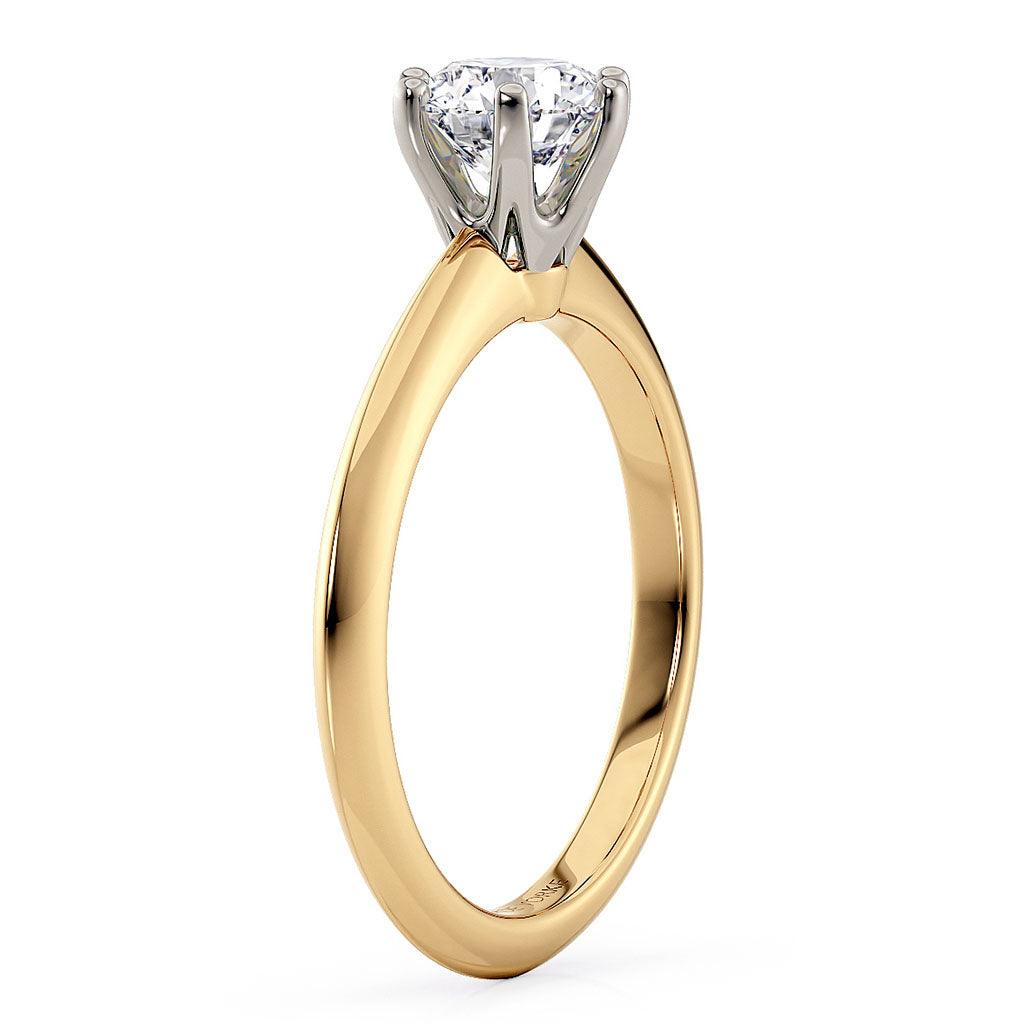 Love - Gold One Carat Diamond Engagement Ring - Certified Lab Grown Diamond
$1,944.00
Regular price
$4,025.00
Subscription • Save
The Love - One Carat Lab Grown Diamond Gold Engagement Ring is the perfect way to symbolise your love and commitment. This stunning ring features an ideal cut one-carat lab-grown diamond, set in a six-claw setting atop a knife-edged band. The rich yellow gold adds a touch of elegance to this timeless design.

This ring is perfect for couples who are looking for a classic and elegant engagement ring. The lab-grown diamond is a beautiful and sustainable alternative to mined diamonds, and the yellow gold band is sure to complement any skin tone.

Centre Diamond Details
Size: 1.00 Carat
Colour: F
Clarity: VS2
Grading & Certification: IGI (International Gemological Institute)
Diamond Shape: Round Brilliant Cut
Diamond Cut: Ideal
Diamond Polish: Excellent
Diamond Symmetry: Excellent
Setting Type: 6 Claw
Stone Type: Lab Grown Diamond
Metal(s)
Band Metal: White, Yellow or Rose Gold
Setting Metal: White Gold
Approx. Metal Weight: 3.5g
Metal Finish: Polished
Purity: 18ct
Rhodium: Yes (White Gold)
Available Ring Sizes
Australia / UK: F - O
US / Canada: 3 - 7
Ring size to be selected at checkout. 
You can also call or email us the ring size.  Larger sizes available. Please call, email or message us. 
Love - Gold One Carat Diamond Engagement Ring - Certified Lab Grown Diamond
$1,944.00
Regular price
$4,025.00
Shipping
Fast shipping
Once we complete your ring we will call you to confirm delivery details. After contacting you we will send the parcel within Australia via StarTrack on an overnight service. Outside Australia we will ship via StarTrack, FedEx or DHL
Insured Shipping
Our parcels are fully insured within Australia and Worldwide
Get in touch
You can contact us at any stage of your order. Our friendly customer service team are trained to help you at all stages of your order. You can call us on 1800 766 567 or via our contact form.
IGI Certified
IDEAL Cut Diamonds
ATTRACTION LIES IN THE ART OF A THING, AND NO DIAMOND SHOULD BE CREATED WITHOUT ALLURE AT ITS HEART
CERTIFIED IDEAL CUT DIAMONDS
Monroe Yorke diamonds are truly captivating works of art. Expertly cut for breathtaking brightness and unparalleled sparkle, these exquisite jewels will fill you with emotion every time you look at them.
Learn more
What is an IDEAL cut Diamond?
Congratulations on finding the most perfect diamond! Let's dive into what makes an IDEAL cut diamond so special.
An IDEAL cut diamond is meticulously crafted with ideal proportions, angles, and excellent polish and symmetry ratings. This exquisite cut allows the diamond to shine like no other, reflecting almost all the light that enters it. It's important to note that an IDEAL cut diamond is not just any ordinary cut; it is a rarity coveted by many. 
In fact, the IDEAL cut diamond serves as the benchmark for grading all other diamonds. With its unparalleled brilliance, an IDEAL cut diamond is a true gem that captures the essence of elegance and beauty.
So, if you're searching for a diamond that delivers unmatched brilliance and radiance, look no further than an IDEAL cut diamond. It's the epitome of perfection.
A RENAISSANCE SET IN DIAMONDS
FINE JEWELLERY MADE IN AUSTRALIA
Turn your special moment into a timeless memory with our unique custom-tailored diamond engagement rings, exclusively crafted in Australia. Our one-of-a kind experience guarantees to make this occasion truly extraordinary!
We offer you an innovative diamond purchase experience that has unrivalled potential for personalisation.
Engagement Rings Made in Australia